Event Registration
Women's Health, Beauty & Wellness Day
Description: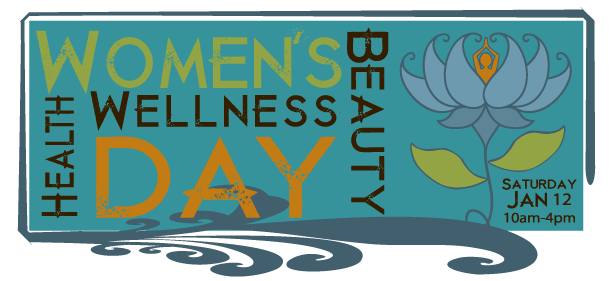 Join us for a day of learning how to look and feel better from Triad fitness, beauty and health gurus. Take one of many different Yoga classes, get a mini-massage, learn about Meditation, Health Coaching and Organic Skin Care. You can also learn about Australian Bush Flower Essences and Natural Lotions, take a mini-seminar on putting fitness in your life or balancing your emotions heal your relationships. We promise a day full of good vibes and fun times!

Please call Eclection at 336-497-4822 to register for sessions and classes below, some have limited room.
"HA" Yoga - is Polarity Yoga and Traditional Hatha Yoga with Frances
Sample a mini class - if you think you cannot do yoga - I hope you will give this a try,
If you have had yoga before this will be something new for you to try.
* Polarity Yoga helps to balance your system – the inner Elements that comprise who you are.
* You will be able to lift your energy,mood and improve your digestion and health.
Polarity Yoga postures bring attention to certain energy blockages in your body that can cause you to feel discomfort. These effective exercises help release and alleviate tension in all its forms, allowing your vital energy to freely flow so that you can be in harmony with yourself and your environment.
12:00 noon

Mini - Polarity Therapy Sessions with Frances
Sign up now for your Sessions with Frances - done fully clothed polarity therapy can be as effective as a deep massage and the effects are longer lasting.
Polarity Therapy is a comprehensive health system involving energy-based bodywork, diet, exercise and self-awareness. It works with the Human Energy Field, electromagnetic patterns expressed in mental, emotional and physical experience.  These free mini-treatments are done fully clothed.
Please register for the one of the following 30 minute sessions:
10:00 am, 10:30 am, 11:00 am, 1:30 pm, 2 pm, 3 pm, 3:30 pm
Meditation Snacks and Yoga with Sheila Taylor from Pure Wellness Center
Please register for the one of the following 30 minute sessions:
10:30 am, 1:30 pm
Belly Dancing with Kim Williams
11:00 am, 1:00 pm 
Balance Your Emotions and Heal Your Relationships with Alexander Tuttle from Pure Wellness Center
Do you ever feel like your emotions run you more than you control them? Would you like to learn how to work with your emotions and increase your well being and communication skills? Join Alexander as he shows effective techinques for emotional release and also teaches how our emotions get stored in our physical bodies and what we can do about it. In our world, there is a lot of talking going on but not much communication. Alexander will give simple communication techniques to enhance harmony in all of our relationships and business interactions. 
Alexander is a Sound and Vibration Therapist, Energy Healer and Communication Expert. He is co-owner of PURE Wellness Center in Kernersville (beside Time Warner Cable). Alexander has 15 years of experience with Self Discovery coaching, helping others remember who they truly are instead of who they have been conditioned to be. Learn more about Alexander at www.ALEXANDERandANGELA.com <http://www.ALEXANDERandANGELA.com>
11:30 am
3 Holistic Ways to Reduce Stress in 5 Minutes or Less with Angela Savitri, Integrative Health Coach with Capri Health at 2:00 pm
Integrative Health Coaching Mini Sessions with Angela Savitri from Capri Health
10:00, 10:30, 11:00, 11:30, 1:00, 1:30, 2:00, 2:30, 3:00, 3:30
Australian Bush Flower Essences Consultations with Mignon Zimmerman
What are Australian Bush Flower Essences, what they do for you and how to incorporate them into your daily schedule.
10:00, 10:30, 11:00, 11:30, 1:00, 1:30, 2:00, 2:30, 3:00, 3:30
Organic Skincare based on Chinese Medicine with Angela Wilson from Pure Wellness Center
What Is Your Skin Telling you? The largest organ in our body is our skin and it is constantly communicating with us, if we know how to listen!
Learn interesting facts on how our skin interacts with other organs and systems in the body and how you can support your health and well being by taking better care of your skin!
Learn the difference between beauty treatments that can compromise your health vs. holistic skin treatments that support your health along simple things you can do to look and FEEL great! We will discuss what ingredients to look out for in skin products, when and when not to have an aggressive chemical peel and what different types of skin care services are available. Each participant will receive handouts to inform and empower regular self care through awareness of how to have radiant skin and a healthy body!
Angela has been a licensed esthetician, massage therapist and energy healer for 17 years. She is co-owner of PURE Wellness center in Kernersville (beside Time Warner Cable) and offers a wide variety of wellness services including: facials, massage, detox treatments, biofeedback body scans, health coaching, energy healing and more! Learn more about Angela at www.ALEXANDERandANGELA.com <http://www.ALEXANDERandANGELA.com> . She will be available for consultations at Ecelction throughout the day on Jan 12. 1:00 pm
Why do people that workout don't loose weight with Allen Branch from Fitness One - Check back for schedule

Putting Fitness and Exercise into Your Life with Allen Branch from Fitness One - Check back for schedule
How to Find the Fragrance that Expresses Who You Are with Stephanie Terrell from Simply Caotic
What to Look for in Natural Lotions and Which is Best for You with Stephanie Terrell from Simply Caotic
221 North Main Street • Kernersville, NC 27284 • 336.497.4822