Bites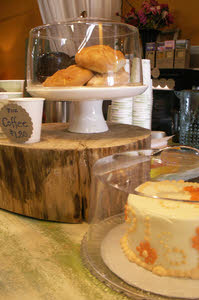 At Eclection we have locally made bites for lunch, dinner or anything in between! Made fresh from the Eclection Chef, Phyllis Franks of Sauceez, you can choose from Garlic Lime Shrimp over Asain Noodles, Spinach Quiche, Curried Chicken Salad, Anti-Pasto Salad, Hummus, Marinated Mushrooms and much more! We'll also feature local artisanal breads and cheeses including Goat Lady Dairy, Looking Glass Creamery and Chapel Hill Creamery. Pair those with fresh rolls and fruit brought in daily and you've got a delicious snack or meal. To accompany all of this, choose the beverage of your choice including a glass of wine form our superb wine list.
Nothing is better with a great cup of coffee than a fresh locally created baked treat from Castle Confections! Choose from gooey sweets like brownies, muffins or a fresh slice of our cake du jour. All of our selections will be made with seasonal ingredients so the options will always be fresh and yummy!
Also check out The Pantry where you'll find coffee by the pound, breads, sauces and other locally made items.
221 North Main Street • Kernersville, NC 27284 • 336.497.4822