Parties
If you're thinking of throwing a bash, Eclection might just be the perfect place! Whether is a birthday, shower or for any reason, we promise a perfect event! We have accommodations for groups up to 12 for dinner or 50 for cocktails (wine only). You may select from the Eclection menu or we can have it catered.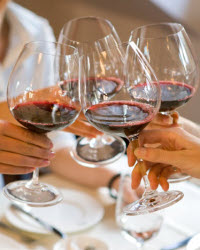 Eclection Gifting: If you love shopping at Eclection, we have come up with a fun way for the guest of honor to register for Eclection gifts. Shortly before the party the guest of honor will be able to roam the Eclection store and mark the gifts they would like. When the guests arrive they can choose the gift they would like to give! No guessing, no wrapping(we can do that for you), no stress!
Please contact us to discuss your perfect Eclection party.
221 North Main Street • Kernersville, NC 27284 • 336.497.4822

Eclection Parties
Birthday
Anniversary
Baby Shower
Bachelorette
Wine Tasting
Holiday